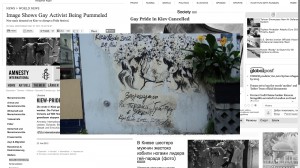 In the foreground there is coloured photo of the invitation to fist Ukranian gay-pride. We have found this grafitti in the Kreuzberg area in Berlin. We were moved, because what does unvitation mean? It means: we are not ashamed of having you as a guests in our home and we are sure that you will feel safe and comfortable in it.
But we also was moved in a quite different way. In  the background you can see a screenshot of websites about the fact that gay pride was cancelled and organizer was beaten by nazis. Maybe it also can be considered as the background the europeans now have about Ukraine: some bleak and dangerous place.  That's why we also felt great shame and great anger for people, whose limited and quite idiotic view on what it means to be patriot now represent Ukraine.
But we persistently believe that the invitation should stay in the focus of our attention. And we ask all of the audience to avoid view that some of peoples just «do not want» to live in free and civilized country. We hope and believe that one day we will be not ashamed of inviting people in Ukraine.
by: Lada and Pavlo