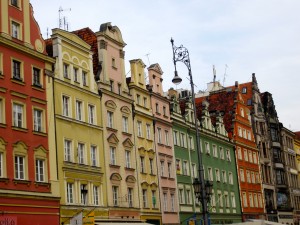 The official Story? Good question – I didn't listen. I was distracted by those stunning beautiful houses and churches (the proportion might be 3/4 – many houses/maaaaany churches) and gables and statues…in a positive way, of course. But also a distraction fed by the quiet, close eyed guy who announced himself being a guide – unfortunately lacking the attitudes a guide should bring. Several attempts to join the group, that gathered very close around him in order to catch a glimpse of the history which we see but not know about, remained unsuccessful. Catching here and there a few words didn't form a story, certainly not the history. I could definitely see our guide studying in the library, sitting amidst piles of books on history, very concentrated, not making a noise – but here it was the wrong place for that friendly young man. Loud city noises kept me looking to the left and to the right. Jaw-dropping facades attracted my eyes and my lens whispering not to pass by without having a closer look at the artful work someone had intensively worked on a long time ago.
When? I don't know – definitely will I google the history of Wroclaw! That I know for sure. City Hall, oldest restaurant, dwarfs (I might have even caught the story behind the dwarfs – some kind of hidden resistance against…something, yep, I will google it). The library looks like a monastery with a beautiful garden. Over the bridge we go and into that very antiquated church. There the strangest room in the world is waiting for us. Many little colorful moving figures are unremittingly going back and forth, back and forth in a strangely hypnotic manner. I was torn between admiring the artwork and refusing to accept it in a holy atmosphere which the church is intended to be. Then I learn, that there are even more of those figures which are being cleaned at that moment – more? I leave the room shaking my head and there I see the Catholic people from our group kneeling and praying. That is what I expect a church to be for – especially a beautiful one like this. This moment also makes me realize for the first time (and many will follow) the deep differences our religious education endows ourselves. I do have respect for those traditions, I am quiet and I observe.
Again I know nothing about the church – I had seen the guide the last time in the moving-doll-room and then again outside where we met to proceed our walk. But neither did I search for him,  my fault. Next stop – a pope statue. The guide tells us that this man called for forgiveness instead of revenge right after the war, called for future not for past. My heritage is being Mennonite, this I expect from someone who follows God's word. We are heading to a bridge full of locks – wedding and love and friendship locks. Matching that new style of confirming one's feelings there is a street artist singing beautifully on a guitar in order to collect money for his wedding. Wait, I think there was a historical fact at that point…think…. I lost it. Maybe something with the river, or the two sides of the city, maybe someone still remembers…
At the end of the road there we find Wroclaw's oldest chapel. It is small, compared to the other churches, and locked behind bars. Mean thing, to humiliate the little historical chapel they built a church five times bigger just across the street, next to the smaller one. Our tour ends, I feel relieved. We choose the way back individually, not as a group, we swarm out. I am in a group of three, we take new streets – never take the same road twice. On the way back we visit the market with it's fruits and vegetables and spices and, even more interesting, it's people. We buy raspberries and return to our hostel on time.
The tour was interesting, we saw the city from a new angle – though lacking very much the information I had hoped to get.
The official story? It had been destroyed and rebuilt again – fortunately.