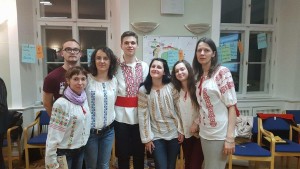 Once upon a time, two very nice people meet and fell in love. After some time, they had this sweet little girl they called Violeta. Hello, I am Violeta 🙂 My life had its ups and downs, but look at the bright side…all of these made me the person I am today.
And now I want to tell you about a dream I had…and I am talking about it in past tense because last year I made it possible through a project.
But, in order to understand this dream of mine, you should know a little bit about my town. Its name is Dăbuleni, located in the southern part of Romania, near the Danube. It has sandy soil that makes possible the growing of the sweetest watermelons that you ever had in life. It is a rich town in terms of culture, tradition and customs, but a lot of this riches were lost in the last 50 years in the communist period.
So my dream was to bring to life all this tradition and customs into contemporary life and make them known by our youngsters. I succeed to put my idea into practice through an European project and to set up the bases of a social cooperative. Here we have 6 workers creating handmade traditional products and I want to say "thank you" to my colleagues for wearing this traditional Romanian blouses.
As a short conclusion to this story, I want to encourage every single person to pursuit his/her dreams because fulfilling them gives you a lot of personal satisfaction.
Violeta Ciuciuc