Kreuzkölln is situated in eastern part of former West Berlin. It was known as a district where rent was low enough for immigrant to live there. Because of the same reason it became popular among young people, who also started to settle there. Migrants and young people community formed a suitable environment for leftist subcultures, and afterwards living in Kreuzkölln has become «hip».
Comparing to the previous day, our tour through Kreuzkölln was much more informal and chaotic. It was more like a pleasant trip though city with friends, with paying on everything unusual, than a guided tour with planned stops and lectures at the sights. The same thing is abou
t the district itself: it has not much in common with any kind of planning, Unlike the situation when the government decided to rebuild Reichstag or construct new governmental buildings, contemporary appereance of Kreuzkölln just happened to be formed. For example, the street called Sonnenallee got unofficial name «Gasa district» because of numerous Arabian fastfood kiosks situated there, but of course no one was tend neither to name the street in this way, nor to make it Arabian.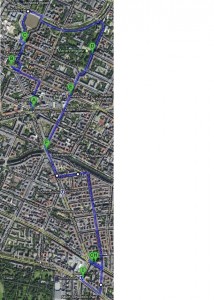 We've seen a lot of leftist street signs, such as stickers, graffitis and posters, and some pieces of street art. We've also gone by bookstore that is can be called leftist because of topics of the books (gender issues, rise of neonazism, «DIY» movement and so on). Too bad that we did not get in touch with communities themselves and didn't hear their stories; I believe, it would make our day even greater,
writer: Pavlo