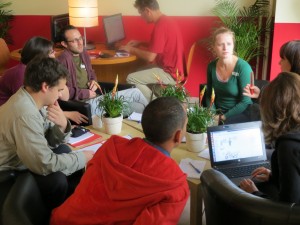 In the seminar, participants worked intensively on history, communities, memory, and narraratives. At the end of the programme, we developed ideas for small projects in our home communities. After having analyzed and compared different prevailing narratives, our main question was: Which other stories should be heard in our communities? How can they be told in a way that brings people together?
These are the projects:
One story – three versions by Aylin
Click here to read the story about her grandfather in WW II.
SQUAT – Someone should ask Questions about Us Acting Together by Hannah, Paulo, Céline, Julia, and Jan
Arab and Jewish communities in Israel by Olha Henyk, Svyatoslav Kaspruk, Ivanna Harasym, Anastasia Roniak, Kateryna Kamyanets.
Click here to see the film summing up interviews with young people from both communities.
Ukrainian identity of young Jewish Ukrainians by Liliya and Vladyslava. The interviews with young people from Lviv and Kiev can be found here.
Pictures of Nazaret by Naama, Lotem, Hagit, Avishay, Asya, and Hanan. Click here for some impressions from the visit and meeting with young people from Nazareth.

By fire and stone. Jewish cementaries Błonie and Warszawa by Michał. The essay can be found here.

The humus holiday by Hanan, Nusaima, Hagit, Avishay, Ranin
Arab narrative by Nusaima, Oday, Ranin, Rwa and Fadi. See here for more information.
Euro 2012. Afterword by Olga and Kateryna. See here for more information.
Once upon today in Tarnowskie Góry / Warszawa by by Michał and Tomasz. Some impressions can be seen in this video.
Polish-Jewish identity as a part of identity in Poland and Israel by Elżbieta and Naama.